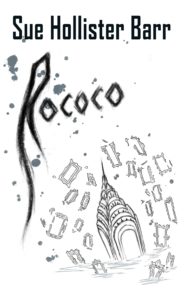 ROCOCO
It's the year 2100.  Nan has had to leave her peaceful home above what used to be the Arctic Circle for something extraordinarily old-fashioned: a physical meeting with someone in, of all places, a city.  If she doesn't contract a fatal disease first, she might just choke to death on the Rococo holography currently choking Manhattan.  And why hasn't she heard anything from her best friend, Trix?
Must she have dinner with the elusive boss who hired her to get those irritating aliens off welfare and back to their home planet?  Annoying.  Especially when she could print up a better meal back home.  But things are about to get a whole lot worse…
"Sue Hollister Barr's characters will draw you into this tale, leading you through fantastic settings and swirling twists."  Amanda Coffin, Editor.