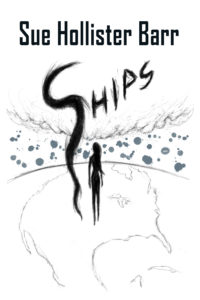 SHIPS
Asperger's-afflicted heroines and killer corporate types and disembodied aliens…Oh My!
Gorgeous, and born with the proverbial silver spoon in her mouth, Veronica Hamilton has never had to interrupt her dreamy sentimentality to question her cultural snobbery or even whether or not that diagnosis of Asperger's was accurate.  But that was before her fabulously wealthy CEO husband framed her for the murders he committed.  Now she's fleeing across "fly-over" America with the pedal to the metal of her burgundy-upholstered Rolls.
Meanwhile, barreling toward Earth, Histus is suffering from extreme sensory deprivation because he no longer has a body.  But his gas-giant home planet has been annihilated, and the only way to survive was to upload his consciousness into his crippled ship.
What could these two have in common?  Oh, and incidentally, will they save the planet Earth?
"Sue Hollister Barr's Ships references Longfellow's ships that pass in the night, but in this case one ship is a huge alien vessel, and the other is the planet Earth.  And they don't pass unseen.  Raucous, witty humor and intriguing characters (including disembodied aliens, a trophy wife wanted for murder and the denizens of a tiny Kansas town) make for a wonderfully fun, and in places quite beautiful, read."  Sondra Fink, Psycho-Girl.Com